'Item' was added to your cart.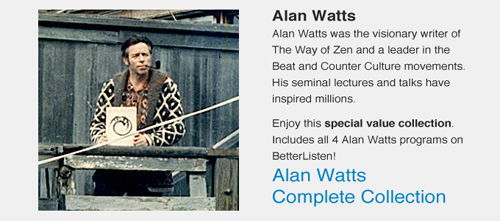 Our Alan Watts Collection. This includes BetterListen's  4 programs comprised of close to 16 hours of never before released Alan Watts audio. A great value and opportunity to listen to this master.
Four Ways To The Center  -   Alan Watts discusses the fundamental attitudes that run through all religions or 'ways of liberation', as the Far Eastern disciplines might better be described.
The Power of Space and Reincarnation with Alan Watts   -   Space is considered to be nothingness by many.  But after all it is the background in which we see everything.  It is against space and within the dimension of time that we experience everything we experience.  Space and time are the two basic dimensions of our world but are uncommonly illusive.  
Thusness   -   Alan Watts discusses the word tathata, which is translated from the Sanskrit as "suchness" or "thusness."
Reality, Art and Illusion with Alan Watts   -   Alan Watts discusses the Indian philosophy of the world as maya -- under its multiple meanings as illusion, art, magic, creative power, measure, etc. Various techniques in the arts are used to illustrate the delicate and vibrational character of the material world, and to suggest a new approach to the old philosophy that the universe is "mind" only.