'Item' was added to your cart.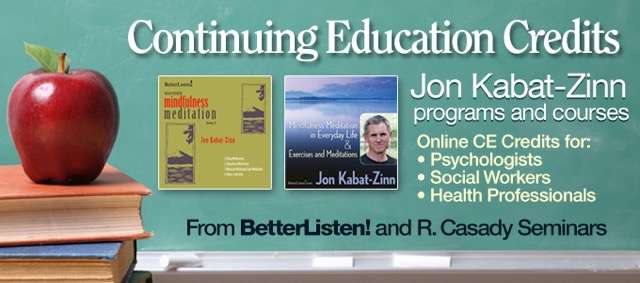 Jon Kabat-Zinn Audio Programs
From the founder of Mindfulness Based Stress Reduction (MBSR)
CE Credits Available Online for
psychologists
social workers
health professionals
Mindfulness Based Stress Reduction has been show to improve blood-pressure, improve symptoms of depression and anxiety, reduces symptoms of chronic pain, improve sleep patterns, and reduces addictive behaviors
Guided Mindfulness Meditation 2 Objectives (3.5 CE credits)
Utilize guided meditations designed for people who want a range of shorter guided meditations to help them develop and/or expand and deepen a personal meditation practice based on mindfulness.
Practice sitting meditation, standing meditation and guided imagery meditations--benefit from its stress reducing, healing, and transformational potential when practiced regularly.
Utilize the maximum time you have to develop a strong and enduring daily practice--deeping aspects of the psyche and supporting the cultivation of silence, stillness, resolve, and wakefulness
Guided Mindfulness Meditation 3 Objectives (4 CE credits)
Utilize guided meditations as tools to help you to strengthen the qualities of mindfulness, compassion, including self-compassion, and lovingkindness in every aspect of your life.
Utilize the array of mindfulness practices described in Coming to Our Senses, beginning with mindfulness of breathing and mindfulness of body sensations--stepping out of time altogether and into the timelessness of the present moment.
Practice guided meditations to become more intimate with the "domain of being," that aspect of what and who we are that is far bigger and more magnificent that the stories we tell ourselves about what and who we are.
Mindfulness Meditations in Everyday Life & Exercises and Meditations (7 CE credits)
Explains how the essence of meditative practice effects our relationships, job performance, and all aspects of our lives.
Shares practices that are congruent with our fast-paced lives in the 21st Century--effective, portable, and easily adopted.
Utilizes guided instruction in mindful walking, sitting meditation, and mindful hatha yoga--Jon Kabat-Zinn makes it easy and offers step-by-step instructions.
Includes Kabat-Zinn's responses to questions from workshop participants--deepening our understanding of, and the commitment to, the cultivation of mindfulness.