'Item' was added to your cart.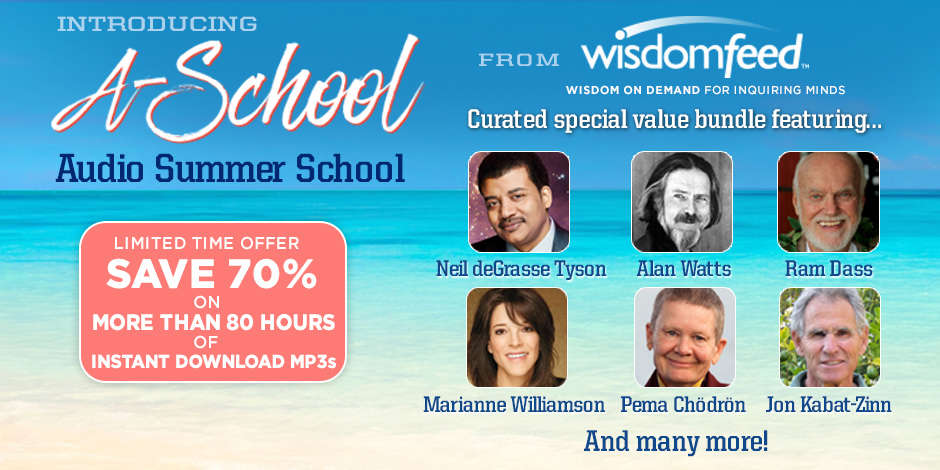 80 plus hours of inspirational listening!
(due to popular demand - offer extend to 9/30/17)
$149.00 - reg $540
Purchase Now $149
Luanne C said: "Just Fabulous"
"There is so much wonderful information. I love the variety of the courses. It's so great to be able to listen to these speakers so full of heart. I feel inspired and encouraged every time I listen to the courses. Thanks"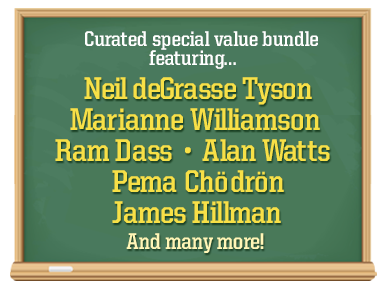 Audio Summer School -
A Great Value Audio Bundle -
An abundant compilation of StreetSmart Wisdom.
Save nearly $400

Mind
StarTalk Radio: Season 1 (11 hours) - Neil deGrasse Tyson
Reality, Art and Illusion (3.5 hours) - Alan Watts
Sacred Journey (6 hours) - Sam Keen
Body
Mindfulness Mediation Series III (4 hours) - Jon Kabat Zinn
Pranayama (6 hours) - Richard Rosen
Uncovering Happiness (1.5 hours) - Elisha Goldstein
Eat Fat Get Thin (1.5 hours) - Mark Hyman
Spirit
Love and Power Retreat (12 hours) Complete Set
- Jack Kornfield, Ram Dass
Bindhu To Ojas (10.5 hours) - Ram Dass
Heart of Bravery (3.5 hours) - Pema Chodren & Sakyong Mipham
The Happiness Compilation (13 hours) - Marianne Williamson
Soul
Soul and Everyday Life (3.5 Hours) - Thomas Moore
The Human Shadow (2.5 hours)- Robert Bly
Myths of The Family (4 hours) - James Hillman

80 plus hours of listening at a great savings - SAVE NEARLY $400

Running Time: 80 plus hours

SAVE NEARLY 400
OFFER EXTENDED TO 9/30/17
BUY NOW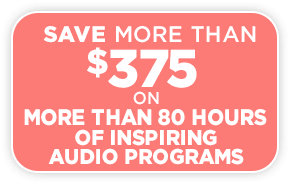 Save Nearly $400.
(offer expires 9/04/17)